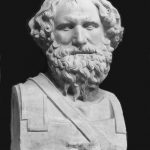 Cinquantasettesima puntata
Tutti abbiamo sentito parlare di Archimede di Siracusa, il celebre scienziato dell'antichità di cui si tramanda che incendiò le navi romane con i suoi "specchi ustori" e che uscì nudo dalla vasca da bagno gridando "eureka!" per la strada. Ma fu proprio così? Lo abbiamo chiesto direttamente a lui…
Autori:
Altre voci:
Chiara Piselli
Giovanna Pacini
Regia:
Musiche:
Podcast: Download (Duration: 31:20 — 28.7MB)
Subscribe: Apple Podcasts | Android | RSS | More
Dal 08/11/2018 ore 09.30 al 11/11/2018 ore 19.00 In occasione della 32a edizione di 'Futuro Remoto' (Napoli, 8-11/11/2018), importante manifestazione di diffusione della cultura scientifica, 31 giovani dottorandi del pro...
Continue reading
Dal 25/10/2018 ore 17.00 al 28/10/2018 ore 18.00 'Le parole della cultura. Un vocabolario che si rinnova' è il titolo della sesta edizione del Festival del giornalismo culturale -manifestazione di cui il Cnr è partne...
Continue reading
Dal 24/10/2018 ore 10.00 al 21/11/2018 ore 13.00 A partire dal prossimo 24 ottobre, su iniziativa del Comitato Unico di Garanzia (CUG) e dell'Istituto per i sistemi agricoli e forestali del Mediterraneo (Isafom) del Consigli...
Continue reading
Particle physics has been historically the ground of long-standing scientific challenges between the US and Europe, especially since the birth of the CERN laboratories in 1954. And in parallel, another challenge has kept the field alive and thriving fo...
Continue reading
Dal 15/10/2018 ore 17.00 al 19/10/2018 ore 15.00 The Golgi complex occupies a central position in the secretory pathway, in both physical and conceptual terms. Many of the current ideas on the functioning of intracellular traffick...
Continue reading
Sono passati poco più di dieci giorni dalla Notte Europea dei Ricercatori 2018, la grande manifestazione coordinata da Frascati Scienza, e ci aspettano già dei nuovi appuntamenti. Da oggi e fino a domenica 14 ottobre, in particolare, va in scena alla Fiera di Roma la sesta edizione del Maker Faire, il più grande evento europeo [...]
Continue reading
From helping to solve historical criminal cases to determining the fate of a disappearing beach in Jamaica and the air quality at your gym: neutron activation is an established method to find out the composition and origin of materials.
Continue reading