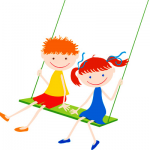 Quarantottesima puntata
Tutti gli oggetti quotidiani sono sempre interessanti da osservare con gli occhi del fisico, ma l'altalena è particolarmente ricca di osservazioni legate a una fisica relativamente semplice da comprendere. Riccardo Faccini del Dipartimento di Fisica riesce persino a parlarne con i propri figli…
Nata in gemellaggio con "Do You Speak Science?" , guardate anche il bellissimo video.
Autori:
Altre voci:
Cecilia Cestellini
Paolo e Pietro Faccini
Regia:
Musiche:
Podcast: Download (Duration: 16:18 — 15.1MB)
I am pleased to report that the book I wrote on the CDF experiment and on collider physics at the Tevatron, "Anomaly!", has been declared this week's "book of the week" by the Times Higher Education site. There, you will be able to read Tara Shears' ve...
Continue reading
19/01/2017 Al via i lavori del progetto Landslip - Landsilide multi-hazard assessment, Preparedness and early warning in South Asia. La cerimonia di apertura si terrà il 20 gennaio prossimo presso il Vivekananda International Foundation di Nuo...
Continue reading
Si è svolta ieri al Quartier Generale dell'ESO la cerimonia per firmare quattro contratti per alcune delle componenti principali dell'
ELT
(
Extremely Large Telescope
), il futuro più grande telescopio del mondo.
Italiano
Continue reading
Measuring with high precision, physicists at CERN found a property of antiprotons perfectly mirrored that of protons.
There is little wiggle room for disparities between matter and antimatter protons, according to a new study published by the BASE experiment at CERN.
Charged matter particles, such as protons and electrons, all have an antimatter counterpart. These antiparticles appear identical in every respect to their matter siblings, but they have an opposite charge and an opposite magnetic property. This recalcitrant parity is a head-scratcher for cosmologists who want to know why matter triumphed over antimatter in the early universe.
"We're looking for hints," says Stefan Ulmer, spokesperson of the BASE collaboration. "If we find a slight difference between matter and antimatter particles, it won't tell us why the universe is made of matter and not antimatter, but it would be an important clue."
Ulmer and his colleagues working on the BASE experiment at CERN closely scrutinize the properties of antiprotons to look for any miniscule divergences from protons. In a paper published today in the journal Nature Communications, the BASE collaboration at CERN reports the most precise measurement ever made of the magnetic moment of the antiproton.
"Each spin-carrying charged particle is like a small magnet," Ulmer says. "The magnetic moment is a fundamental property which tells us the strength of that magnet."
The BASE measurement shows that the magnetic moments of the proton and antiproton are identical, apart from their opposite signs, within the experimental uncertainty of 0.8 parts per million. The result improves the precision of the previous best measurement by the ATRAP collaboration in 2013, also at CERN, by a factor of six. This new measurement shows an almost perfect symmetry between matter and antimatter particles, thus further constricting leeway for incongruencies which might have explained the cosmic asymmetry between matter and antimatter.
The measurement was made at the Antimatter Factory at CERN, which generates antiprotons by first crashing normal protons into a target and then focusing and slowing the resulting antimatter particles using the Antiproton Decelerator. Because matter and antimatter annihilate upon contact, the BASE experiment first traps antiprotons in a vacuum using sophisticated electromagnetics and then cools them to about 1 degree Celsius above absolute zero. These electromagnetic reservoirs can store antiparticles for long periods of time; in some cases, over a year. Once in the reservoir, the antiprotons are fed one-by-one into a trap with a superimposed magnetic bottle, in which the antiprotons oscillate along the magnetic field lines. Depending on their North-South alignment in the magnetic bottle, the antiprotons will vibrate at two slightly different rates. From these oscillations (combined with nuclear magnetic resonance methods), physicists can determine the magnetic moment.
The challenge with this new measurement was developing a technique sensitive to the miniscule differences between antiprotons aligned with the magnetic field versus those anti-aligned.
"It's the equivalent of determining if a particle has vibrated 5 million times or 5 million-plus-one times over the course of a second," Ulmer says. "Because this measurement is so sensitive, we stored antiprotons in the reservoir and performed the measurement when the antiproton decelerator was off and the lab was quiet."
BASE now plans to measure the antiproton magnetic moment using a new trapping technique that should enable a precision at the level of a few parts per billion—that is, a factor of 200 to 800 improvement.
Members of the BASE experiment hope that a higher level of precision might provide clues as to why matter flourishes while cosmic antimatter lingers on the brink of extinction.
"Every new precision measurement helps us complete the framework and further refine our understanding of antimatter's relationship with matter," Ulmer says.

Continue reading
Dal 25/01/2017 al 27/01/2017Palais des Festivals Cannes - France Il Cnr, in qualità di partner della rete europea Enterprise Europe Network, co-organizza e promuove la partecipazione ad un importante investors forum: il mercato internazionale ...
Continue reading
Scoperta una delle galassie più brillanti finora conosciute fra quelle più distanti. Trovandosi a 11.4 miliardi di anni luce, è stato possibile individuarla solo grazie all'ingrandimento prodotto dall'effetto lente gravitazionale di un'altra galassia, molto più vicina a noi, interposta lungo la linea di vista. Una caratteristica eccezionale è l'altissima luminosità nella riga d'emissione Lyman alfa, una delle più brillanti nello spettro ultravioletto
Continue reading
After years of violence and the devastation of Ebola, Sierra Leone's health professionals can finally look beyond urgent crises.
Continue reading
Alcuni orologi atomici a bordo dei satelliti del sistema di navigazione europeo risultano non funzionanti. Lo ha dichiarato ieri Il direttore generale dell'ESA Jan Worner durante una conferenza stampa presso il quartier generale dell'ESA a Parigi.
Italiano
Continue reading