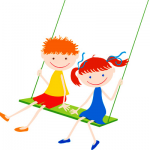 Quarantottesima puntata
Tutti gli oggetti quotidiani sono sempre interessanti da osservare con gli occhi del fisico, ma l'altalena è particolarmente ricca di osservazioni legate a una fisica relativamente semplice da comprendere. Riccardo Faccini del Dipartimento di Fisica riesce persino a parlarne con i propri figli…
Nata in gemellaggio con "Do You Speak Science?" , guardate anche il bellissimo video.
Autori:
Altre voci:
Cecilia Cestellini
Paolo e Pietro Faccini
Regia:
Musiche:
Podcast: Download (Duration: 16:18 — 15.1MB)
Il telescopio orbitante di Nasa ed Esa se stava lì tranquillo a osservare un cluster stellare quando ha fotografato questa meraviglia fatta di galassie a spirale ed ellittiche
Continue reading
Lo scorso 19 febbraio alle 15:39 (ora italiana), il razzo vettore Falcon 9 della Space X ha portato in orbita con successo la navicella cargo Dragon, lanciata dalla piattaforma 39A del Kennedy Space Center, in Florida, la stessa utilizzata negli anni Sessanta per le missioni Apollo verso la Luna, compresa la numero 11.
Italiano
Continue reading
Elettronica in panne, colpa dello spazio. In qualità di utenti tecnologicamente evoluti - dotati di smartphone, tablet e laptop - spesso ci capita di dover fare i conti con improvvisi quanto inspiegabili black out dei nostri dispositivi. Nella maggioranza dei casi, i responsabili di un blocco nelle funzionalità (o di una schermata blu sul desktop che recita "errore"), sono i sistemi operativi – Apple o Android – e la memoria primaria.
Italiano
Continue reading
"Costruire questa macchina per cinque anni è stato come attraversare il deserto. Ora metterla in funzione significa trovare un'oasi – l'oasi che ci condurrà a osservare le onde gravitazionali." La macchina in questione è
Advanced VIRGO
, l'
interferometro
di seconda generazione immerso tra le campagne toscane, e ad annunciarne il primo respiro è il portavoce
Fulvio Ricci
durante la cerimonia di inaugurazione a
Cascina
, a una quindicina di chilometri da Pisa.
Italiano
Continue reading
Il satellite Sentinel-2A del programma europeo Copernicus ci porta sulle Alpi Venoste nella regione austriaca del Tirolo occidentale, in questa immagine del 16 ottobre 2016.
Continue reading
Un nuovo studio smentisce un possibile legame tra i buchi neri risalenti ai primordi dell'Universo e l'elusiva
materia oscura
, che permea poco più di un quarto del Cosmo. Pubblicato su
The Astrophysical Journal Letters
, è stato condotto da un team di ricercatori dell'Institute of Astrophysics of the Canaries, presso l'University of La Laguna, a Tenerife.
Italiano
Continue reading